Yeah... I'm really late. I developed some kind of aversion to blogging for a short while, so I postponed posting here until now. More 2009 highlights to come, as well as new content. Thanks for sticking with me.
---
Tim Hecker:

An Imaginary Country
This was a bit of a disappointment when compared to the masterpiece that is
Harmony in Ultraviolet
, but an excellent experimental ambient album no less. Hecker paints from a familiar palette of static-laced field recordings, overdriven organs, aqueous rumblings, etc., but the feel here is pretty far removed from past albums. "Borderlands" alone makes this album worth checking out, sounding unlike anything the artist has written thus far. Frigid piano chords shiver over Hecker's frozen tundra using some excellent DSP techniques, and hollow bell-like tones sound in the distance. Evocative as all Tim Hecker albums are,
An Imaginary Country
is an excellent journey through a truly fantastic world.
---
Bibio:

Ambivalence Avenue
I debated writing this in a different post, but enough of it is purely electronic to qualify it for this list. Stephen Wilkinson completely reinvented himself on this record, and I'd say it's for the better. He retains elements of past recordings, but incorporates many stylistic elements from his new labelmates at Warp. The songwriter included a few folky tunes, some excellent pop numbers, and several instrumental hip hop cuts that would jibe well alongside Flying Lotus or J Dilla on a mix. Here's
what I've written about this album
in the past.
---
Kreng:

L'Autopsie Phénoménale De Dieu
If the foreboding title and cover art alone didn't inform you, this is without a doubt one of 2009's most unsettling albums. A bizarre combination of musique concréte, jazz and aria samples, found sounds, prepared (and traditional) piano, and minimal string arrangements that recall Ligeti and Arvo Pärt. Though the pieces were conceived for avant-garde theatre and dance troupes,
L'Autopsie Phénoménale De Dieu
is a work that holds up when decontextualized (I've not seen the pieces which the album accompanies). The TMT message board was constantly buzzing about this guy, but I never got around to listening until about a month ago. The Chopin prelude that "Meijse en Auto" (the song that initially grabbed my attention) is based upon is beautiful and sorrowful enough as is, but when combined with what sounds like a woman crying over a telephone and a languorous, funereal snaredrum and ride cymbal pattern, it's one of the most despairing things I've ever heard. Not for the faint of heart, but highly rewarding and very innovative.
---
The xx:
xx
Upon initial listens, "Crystalised" was very underwhelming. I dismissed the group (as many have) as yet another UK buzz band who've gotten too much press too quickly. While they may have garnered an unbearable amount of exposure before having time to adjust (one of the original four members quit after an exhausting festival circuit), they show remarkable maturity and restraint on their debut album. Smart, sexy, and surprisingly honest,
xx
is one of 2009's most surprising releases. These eleven songs delve deeply into the minds of twenty-somethings, admittedly not very fertile ground for truly profound material, but the simple candidness in both lyrical content and delivery is often disarming (though entirely welcome). Musically, xx shows a nascent band who've already crafted and almost perfected their own aesthetic, an austere blend of stark MPC beats, clean guitar and bass lines, and soft, sultry vocal interplay. Yield to the hype.
---
John Wiese:

Circle Snare

[EP]
Prolific LA based noise auteur John Wiese shows a remarkable amount of restraint on this effort. Not nearly as great as
Soft Punk
, but a solid and intriguing EP no less. Here's what I wrote for
Tiny Mixtapes' Year-End Fest
:
Circle Snare stood in stark contrast to John Wiese's watershed release, Soft Punk. Although there was empty space between sounds, Circle Snare was insular and claustrophobic, delivering profound psychoacoustic effects when listened to on headphones. There were certainly passages of chaos and emotional catharsis, but they felt well-deserved after the long segments of silence punctuated by abrupt, small sounds. While noise is overtly harsh and often considered impersonal to the uninitiated, Wiese's expressions on this album were very human — almost uncomfortably so. His chopped-up, sampled breathing sounded absolutely malicious as it skittered between channels, and when he unleashed waves of pummeling noise, it was with brute physicality. The three-part title suite unfurled steadily, initially hinting at the inclusion of traditional tonality. This notion was quickly dispelled as the drone was shattered into thousands of indiscernible fragments, pitch-shifted drum machines moaned, and mangled tape loops screeched and yowled like feral cats. Possibly the most noticeable aspect of the release was the absence of the sadism found so frequently in the genre. Wiese allowed his listener some respite quite often (by way of near-silence), making Circle Snare one of the most patient, restrained sets of noise music released in 2009.
---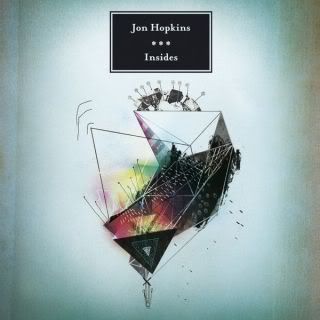 Jon Hopkins:

Insides
This British composer/producer certainly has an ear for texture. Massive bass assaults yield to placid, elegiac piano miniatures, only to be succeeded by glitchy IDM workouts. The melding of organic strings with rich synthetic pads and drums works very well for Hopkins. It's a shame that his contributions to Coldplay's
Viva La Vida
are conflated with and overshadowed by those of Brian Eno (both men produced, and though I'm a huge Eno fanboy, I'd venture to say that Hopkins' synth contributions were much more essential than Eno's).
Insides
almost feels a bit too long at times, but the incredible highlights alone are worth your time.
---